Policies
IMPORTANT — PLEASE READ
Please take time to review the policies below.
This will help you plan and prepare so there aren't any "surprises" upon arrival and speed up the check-in process.
RATES subject to change without notice. Rates vary on weekends & holidays and will fluctuate according to availability. Some units may require 2 or 3 night minimum stays. Call for best current rates and special offers.
All Quoted Rates are PLUS TAX
RESERVE EARLY! Our Rates will INCREASE as we fill (sometimes daily). If you call for pricing, please be prepared to reserve — we cannot guarantee rates will hold if you call back at a later time or date.
50% DEPOSIT required on stay of 2 or more nights. Full payment required in advance for one nights stay. Personal checks, money order, or credit cards accepted FOR DEPOSIT ONLY!
ANY and ALL CANCELLATIONS are subject to a 25% service charge of the total stay! However, the amount charged for the cancellation fee is issued as a future credit. (Groups, sports teams, family reunions, etc. may be subject to other cancellation terms per contract or agreement)
Please note: some dates require a minimum stay (such as a 2 or 3 night minimum) that will not allow you to cancel part of your stay or package — you are responsible in full for the number of nights, persons, tickets, and activity package you reserve.
NO REFUND if reservation is canceled within 2 full days prior to date of arrival.
If you change your dates, there is a $25 change fee and the rate will be increased to the current pricing. This fee applies to use of future credits since there is a date change involved. Some units/dates may require a 2 or 3 night minimum.
SPECIFIC ROOM PLACEMENT and/or COVERED DECKS — Not all rooms have covered decks. If you would like to guarantee your room with a deck and/or you would like a specific room placement, view, or location (such as poolside), a nominal fee will apply.
PACKAGE RESERVATION POLICY: MEADOWBROOK RESORT is not responsible for closings, show schedules & dates and all are weather permitting. Not valid in conjunction with any other discounts, coupons, packages, special offers, or group rates. Subject to price and availability. Due to package items being registered specifically to your family in advance, OUR NORMAL CANCELLATION POLICY OF A 25% SERVICE CHARGE OF THE TOTAL STAY APPLIES ON PACKAGES ALSO (see above). In the event that an activity is completely closed, not available, or admission restricted, we will exchange that activity for another for you; an exchange fee or price upgrade may apply.
You are welcome to register and/or check-in at anytime during office hours. Most rooms are ready by 4:00 PM, but occasionally there may be a wait for room availability during peak periods; however, you are welcome to enjoy our pools & facilities as soon as you arrive and if you reserved a vacation package, you may get your tickets & passes and begin your activities right away. Check-in is until 10PM.
BALANCE PLUS 12.25% TAX DUE upon arrival; payable by cash or credit/debit card. NO CHECKS OF ANY KIND WILL BE ACCEPTED! You will be held responsible for the number of nights you reserve. For all groups and reunions, the first person to arrive should be prepared to pay the balance due!
NOTE: If you reserved with a credit card, the cardholder whose name appears on the card that was used for the advance deposit must be the person to register upon check-in with that exact card. (if this card is not available at check-in, including closed or reassigned accounts, the TOTAL charge must be paid by another card or cash and then the card number originally given will be credited).
OFFICE CLOSES AT 10:00 PM — Later check-ins MUST BE PRE-ARRANGED at least 1 full day prior to arrival or WILL BE SUBJECT TO A $25.00 OFFICE STAFF CHARGE!
CHECK-OUT TIME is 10:00 a.m.
NO REFUND for early departures. You are responsible in full for the number of nights, persons, tickets, and activity package you reserve.
Limited HOUSEKEEPING is provided daily. REMEMBER to BRING YOUR OWN pool, beach, and waterpark towels; they are not available at water activity facilities and you will be charged if guest towels are removed from your room.
To enhance your enjoyment of the Resort without disturbances, we do not have in-room phones, but there are courtesy phones throughout the resort for your convenience with free local calls. Messages can be taken at the front desk if you need to be reached in an emergency.
Are you travelling with an infant? We suggest to bring a portable crib or pack-n-play as we do not have any available.
MEADOWBROOK is a quiet, family resort that does not cater to late night parties. Upon arrival, all rooms must be registered by a responsible adult. Everyone is required to sign our "NO PARTY POLICY" upon check-in. Any violation of this policy will result in eviction without any refund.
Placing a reservation at Meadowbrook Resort or DellsPackages.com constitutes acceptance and agreement to abide by all our policies.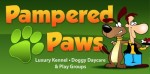 WE DO NOT ACCEPT PETS OF ANY KIND but while you vacation at Meadowbrook Resort your pets can take a vacation at Pampered Paws. Just a half mile from us. Meadowbrook's owners and managers frequently take their own pets there. See Below:
Pampered Paws Pet Resort is located just a half mile from Meadowbrook Resort in Wisconsin Dells on State Highway 13. Pampered Paws is a family run business, which consists of 46 indoor luxury kennels. The kennels are divided into two large rooms that separate the larger dogs from the small dogs. Each room has televisions, ceiling fans, a couch for petting sessions and plenty of windows.
Pampered Paws has a full service-grooming department for all your pet's needs. We can schedule grooming around your dog's stay. Pampered Paws Pet Resort does not cater to aggressive dogs and dogs with health problems, which may affect other guests. Our goal at Pampered Paws is to treat your dog like the special companions they are. For more information please visit www.pamperedpaws.net
---
NOTE: Mention of third-party websites, web links, products, and activities is for informational purposes only. This information is provided only as a convenience to our users. Meadowbrook Resort or DellsPackages.com assume no responsibility with regard to the selection, performance or use of information or products found at third-party websites whether mentioned or linked within our sites. We make no representations regarding the accuracy or reliability of information, times of operation, etc. and we assume no responsibility in this regard. We have no control over the operation or websites of other businesses and we urge guests to review and plan accordingly.
---
Please Note
If you are reserving a room through a 3rd party reservation service such as Booking.com, Expedia, PriceLine.com, Hotels.com, etc., you do so at your own risk and discretion. Due to our lack of control of the content, we will not honor any specific information that is provided to you by these 3rd party "services" including but not limited to a guarantee of any particular room style as is presented on these sites. These "services" do not verify the availability of any particular room style before making the reservation on your behalf and confirming it to you. Therefore, Meadowbrook Resort will not be responsible for any discrepancies of any kind.
In addition, regardless of policies stated on these 3rd party sites, our own resort policies apply and have additional restrictions including, but not limited to:
ALL CANCELLATIONS are subject to a 50% service charge of the total stay!
Please note: some dates require a minimum stay (such as a 2 or 3 night minimum) that will not allow you to cancel part of your stay or package — you are responsible in full for the number of nights, persons, tickets, and activity package you reserve.
NO REFUND if reservation is canceled within 3 full days prior to date of arrival.
Any reservations and cancellations are subject to our policies as stated above including all fees (future credit will not be issued if reserved via a 3rd party site).
Featured Deals
Select one of our featured packages below or
Click Here to see all of our Great Vacation Packages